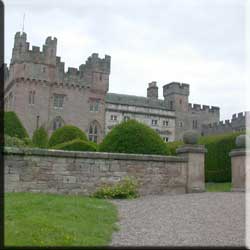 At Woodland Cottage ...
Included in the cost
Linen: sheets, pillowcases and towels with weekly change.
Services and full central heating during your stay.
First basket of fuel for open fire, further supplies available at cost.
A little milk, tea and coffee so you can have a hot drink when you arrive.

LIVING ROOM

Freesat LED Colour TV with integral DVD player

Clock / radio / CD player
Broadband / WiFi router

KITCHEN

Microwave
Food processor
Dishwasher
Toaster

Larder fridge and Freezer
Auto washer / dryer
Oven and hob
Kettle

UTILITY ROOM

Freezer
Washer / dryer

Cupboard with cleaning materials &c.

MISCELLANEOUS

Hairdryer
Utility room with drying facilities
Off-road parking for up to three cars
Lockable shed suitable for bicycle storage


Large and interesting garden area with views over Cartmel valley
Outdoor bench folding out into picnic table
High chair and cot available on request

EXTRAS

Well-behaved dogs £25 per stay by arrangement


Sorry, no smoking

Hall

Antique commode
Mirror

Fold-up bed with foam mattress


Coat hooks
Door mat

Living room

2 Sofas
4 cushions
4 pictures
Nest of 3 tables
Kitchen table
4 chairs
Bookcase with books
Set of playing cards
Scrabble game
4 vases / jugs (on mantelpiece)
Broadband / WiFi router

Small silver coloured oval platter
Rug
lamp shade
1 lamp
1 mirror
LED TV with integral DVD player and remote control
Satellite receiver with remote control
Clock / radio / CD player

Kitchen

Dishwasher
Fridge
Oven & hob (Baking trays in oven)
Kettle
Bread bin
Toaster
Hob extractor fan
Fire blanket

Spice rack
Cast iron Pan rest
Knife block
Carving Knife & fork
Scissors
6 steak knives
4 small sharp knives
Strip of low voltage ceiling lights
Over-worktop lighting

Drawer

Vegetable peeler
3 Wooden spoons
1 wooden spatula
3 plastic spatulas
1 whisk
1 grater
1 ice cream scoop
1 ladle


1 sieve
1 bottle opener
1 tin opener
1 pastry brush
1 garlic crusher
1 rolling pin
1 plastic chopping board.

Cupboard under drawer

Toast rack
6 place mats
4 Reed mats
6 napkins
Oven glove tea towels
Apron
Cutlery basket

6 tea spoons
10 spoons
10 Knives
10 forks
10 soup spoons
10 serving spoons


Cupboard under sink

Washing up bowl
drying rack
wash up brush
fairy liquid
2 chopping boards

4 saucepans
2 frying pans
1 colander
1 large sieve

Top cupboards from left: 1

6 Big plates
6 Bowls
11 side plates
4 cups
4 saucers

8 mugs
7 plastic mugs
jug
1 glass water jug
4 egg cups

Top cupboards from left: 2

Cake tin
Small supply of coffee and teas

Pepper salt
Mini Jams
Butter dish

Top cupboards from left: 3

Blender and fittings
2 china jugs

1 plastic measuring jug
Lemon squeezer.

Top cupboards from left: 4

1 mixing bowl
2 bowls
Serving dishes


1 oval casserole with lid
1 oval casserole without lid


Corner Shelves

Cafetière
Sugar bowl

Salt & pepper set
teapot

Glasses on corner shelves & cupboard 1

6 wine glasses
6 short glasses


6 tall glasses

Twin bed room

Wardrobe
2 beds, one with camp bed beneath
Bedside table
Dressing table
Stool


4 pictures
Mirror
2 rugs
Lamp shade
2 bedside lamps with shades


Double bedroom

Wardrobe
King size bed and mattress
2 bed side tables
Dressing table
Stool


3 pictures
Mirror
2 Rugs
Lamp shade
2 bedside lamps with shades


Bathroom

Bath mat
Lavatory mat
Lavatory brush & holder


Stainless steel bin with lid
Mirror, stainless steel shelves
Lavatory roll holder

Utility / Boot room

Freezer
Washer / dryer
Creel with rope support and fittings
Coat hooks


Door mat
Boot stand
Instructions folder
Local information folder.


Service cupboard

Vacuum cleaner
Ironing board
Steam iron
Washing basket
Clothes pegs


Bucket
Dusters
Plastic bags
Bin bags
Cleaning materials


Outside

Garden shed
Picnic table with integral fold-out benches
Galvanised bucket
Wooden bird table
Stone bird bath


Green garden waste recycling wheelie bin
Grey ordinary wheelie rubbish bin
Box for paper recycling
Box for glass and tin recycling
Satellite receiver dish
Page created 25 November, 2015